Turkey urges world to take action to end "Israeli" aggression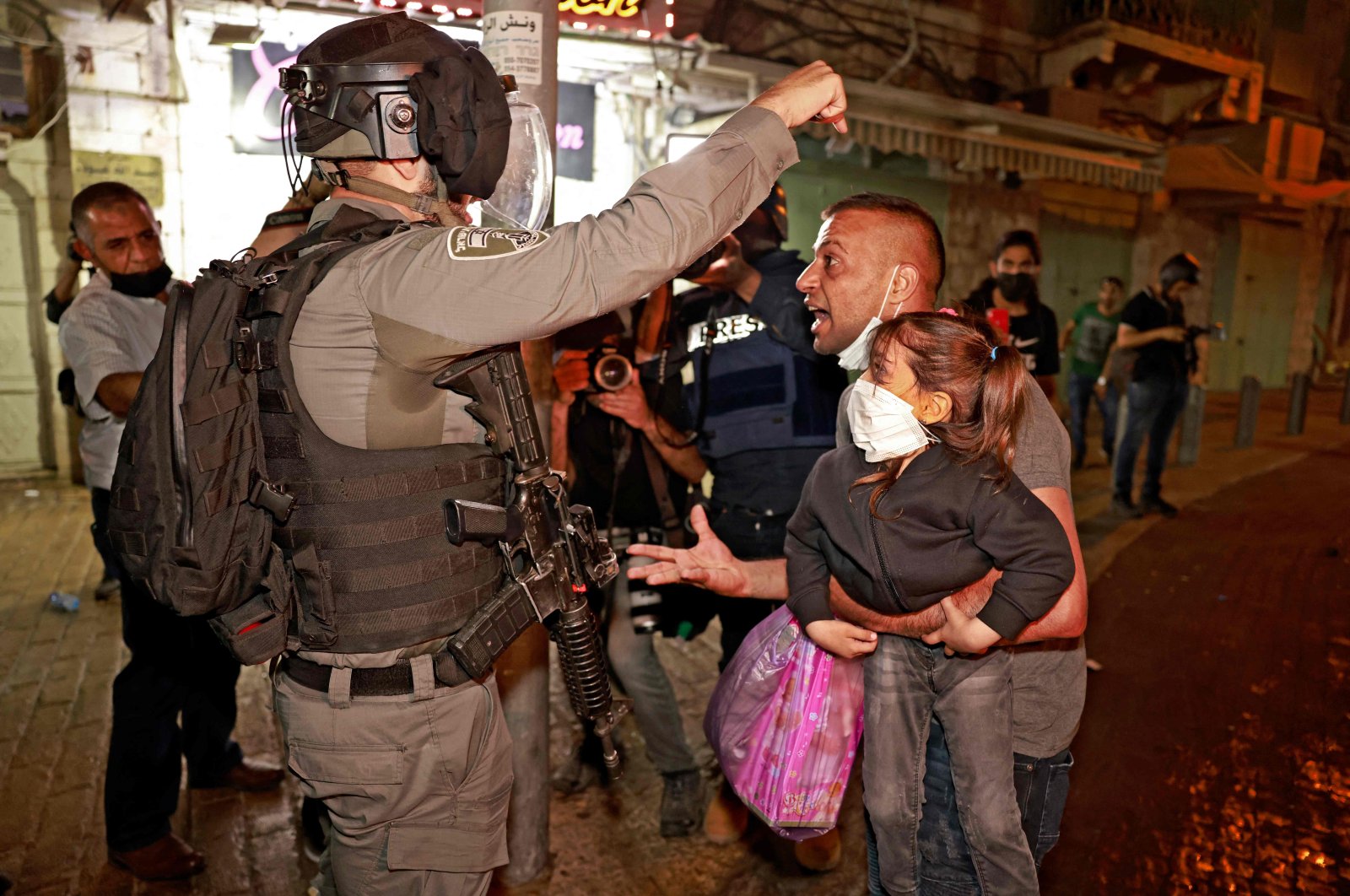 Turkish officials urged global powers to speak up and take action against "Israeli" violence targeting peaceful Palestinians in Jerusalem, as they said Turkey will strive to take initiatives in this regard.
Foreign Minister Mevlüt Çavuşoğlu pledged to defend the rights of the Palestinian people against "Israeli" violence in Jerusalem.
"Israel's violence in Al-Aqsa Mosque against innocent people does not end," Çavuşoğlu said on Twitter, adding that those who do not speak up against the violence should not be talking about peace in the Middle East.
Presidential Communications Director Fahrettin Altun called on all countries to take action against "Israel".
"To the Islamic world, we say: It's time to stop Israel's heinous and cruel attacks! To humanity, we say: It's time to put this apartheid state in its place!" Altun said, adding that it was a humanitarian obligation to do so.
He continued by saying that Turkey will continue to fight the oppressive system even if it is left alone.
Presidential Spokesperson Kalın also urged "Israel" to stop attacking Palestinians in Jerusalem and prevent occupiers from entering the Al-Aqsa Mosque, as he called on world powers to take action to end "Israeli" aggression.
In a separate tweet, Kalın also said Turkey has been taking initiatives at all levels to stop "Israeli" aggression.
"Israeli authorities are responsible for all types of attacks, violence and incidents against Palestinians," Kalın said.
Deputy Foreign Minister Yavuz Selim Kıran also criticized "Israel", as he said Turkey calls on "Israeli" police to immediately end its blockade on the Al-Aqsa mosque and stop violence against innocent Palestinians.
"The international community should say stop to the Israeli state's and extremist groups' reckless and irresponsible practices," Kıran said on Twitter.
The ruling Justice and Development Party (AK Party) Spokesperson Ömer Çelik noted that "Israeli" aggression against Palestinians has been increasing as he warned "fanatics" are preparing for an occupation outside the Al-Aqsa Mosque.
"This is oppression and reckless lawlessness. The world must say stop," Çelik said.
He continued by saying that "fanatics" who speak of occupying Al-Aqsa and taking over Jerusalem have been carrying out all sorts of inhumane acts and calls for restraint will only encourage them to pursue their goals. He also said such calls cover up the truth that the other side is the victim.
Turkish officials' remarks coincided with East Jerusalem's Al-Aqsa Mosque's director, who called for help from the Islamic world through Haram al-Sharif's speakers amid "Israeli" police incursion on Monday.
President Recep Tayyip Erdoğan had criticized "Israel" on Saturday, saying that "Israel" carries out such attacks each year during Ramadan.
"We strongly condemn Israel's heinous attacks against our first qibla #AlAqsaMosque, that are unfortunately being carried out every Ramadan," Erdoğan said on Twitter.
"As Turkey, we will continue to stand by our Palestinian brothers and sisters in all circumstances," he added.
"Israeli" police fired rubber bullets, tear gas and stun grenades to disperse Palestinian worshippers in their raid on Jerusalem's Al-Aqsa Mosque late Friday.
The attack on Islam's third holiest site and around East Jerusalem, which injured over 200 Palestinians and 17 police officers over the weekend, came amid mounting anger over the planned evictions.
Tensions in Jerusalem have soared in recent weeks as Palestinians have protested against "Israel's" restrictions on access to parts of the Old City during the Muslim holy month of Ramadan, and after authorities ordered several Palestinian families to leave their homes to make way for "Israeli" settlers.
On Saturday, the European Union urged authorities to quickly calm tensions, condemning violence following "Israeli" police officers raiding and attacking Palestinian worshippers in Jerusalem's Al-Aqsa Mosque.
"Israel" occupied East Jerusalem during the 1967 Arab-Israeli war.
It annexed the entire city in 1980, in a move that has never been recognized by the international community.
Source: This article first appeared in Daily Sabah, along with the cover photo, captioned as: A member of "Israeli" security forces argues with a Palestinian protester holding a child outside the Damascus Gate in Jerusalem's Old City on May 9, 2021. (AFP Photo)