Protest in front of the World Forum to confront anti-Semitism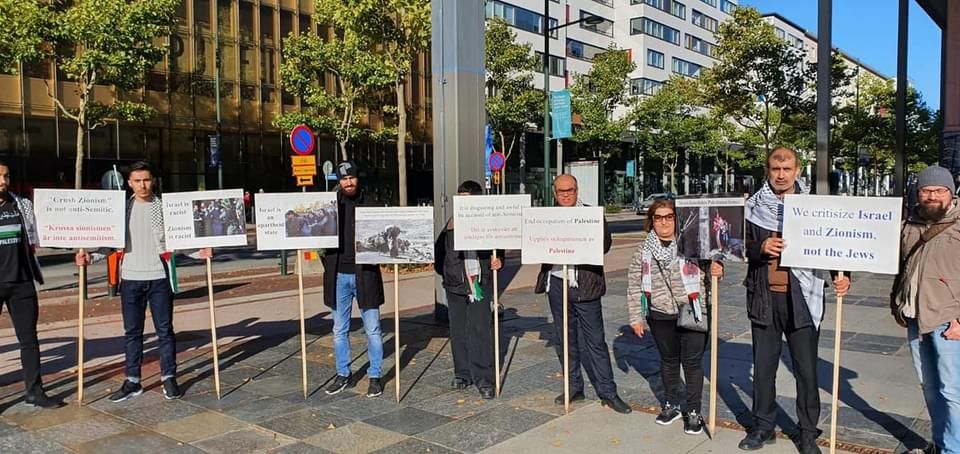 The Palestinian Action Group in southern Sweden organized a protest sit-in in front of the headquarters of the World Forum to confront Anti-Semitism, which will be held today, Wednesday, October 13, 2021 in the city of Malmo - southern Sweden.
The group called on the forum, which was entitled "Remember and Move", to remember the suffering of the Palestinian people, which began in the twentieth century with Britain giving the "Balfour Declaration" and continues to this day.
The protesters pointed to the need to separate anti-Semitism from criticism of "Zionism" and "Israel".
The Palestinian Action Group in southern Sweden, which includes 13 Palestinian associations, issued a statement on the "Global Forum to Confront Anti-Semitism", which puts at the top of its goals the fight against so-called "anti-Semitism" in society and on social media.
In its statement, the group expressed its fear that the forum's outcomes would lead to the prosecution of those who criticize the Israeli occupation on charges of anti-Semitism, noting that confronting anti-Semitism must start from confronting all forms of racial discrimination.
She stressed the need not to use the anti-Semitism law to legalize illegal acts, such as the "Israeli" military, political, economic and humanitarian aggression against the Palestinian people.
This forum is sponsored by an organization called the "International Holocaust Revival Alliance", and this organization has linked in its examples and definition between anti-Semitism and criticism of "Israel", according to the statement of the Palestinian Action Group in southern Sweden, which indicated that "Israel", with the participation of the global Zionist movement, uses means of pressure on some countries to boycott any conference that differentiates between anti-Semitism and anti-Zionism.
The conference will be attended by the president of "Israel", its prime minister, heads of state or government of member states or observers, in the so-called "International Holocaust Remembrance Coalition", the European Union, the Scandinavian countries, and a few other countries.
And companies also major technology companies globally such as: "Facebook, Twitter, Google, and Tik-Tok", with the aim of focusing specifically on combating "anti-Semitism" in social media.
It is noteworthy that Sweden pledges, not only within the Malmö Forum, but also as the next president of the "International Holocaust Remembrance Alliance IHRA" between March 2022 and February 2023, to allocate an annual amount for these pledges: 95 million krone in 2022, and 114.5 million krone in 2023, and 124.5 million krone in 2024. To accomplish several activities, most notably the establishment of a technologically advanced museum for "preserving the memory of the Holocaust" in Sweden.