"Irish artists pledge to boycott "Israel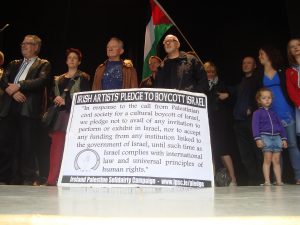 In August 2010 the Ireland Palestine Solidarity Campaign (IPSC) launched the following pledge, initially signed by over 140 (now 1,333) Irish creative and performing artists, whereby they undertake to boycott "Israel" under present circumstances:
"In response to the call from Palestinian civil society for a cultural boycott of "Israel", we pledge not to avail of any invitation to perform or exhibit in "Israel", nor to accept any funding from any institution linked to the government of "Israel", until such time as "Israel" complies with international law and universal principles of human rights." See the full list of signatories below.
In January 2020, The 'Irish Artists' Pledge to Boycott Israel' reached landmark 1000 signatures.
In its statement in August 2020, The Palestinian Campaign for the Academic and Cultural Boycott of "Israel" (PACBI) strongly welcomed the Irish artists' 'pledge' to boycott "Israeli" cultural institutions until "Israel" complies with international law.
it added that the pledge not only represents a significant victory for the ethical responsibilities of international cultural figures; a key factor in the cultural boycott of "Israel", but is a ground breaking strategy in supporting Palestinian struggle for freedom and justice.
The artists who have signed are aware of the "Israeli" Foreign Ministry's statement in 2005 that "We see culture as a propaganda tool of the first rank, and…do not differentiate between propaganda and culture." These artists refuse to allow their art to be exploited by an apartheid state that disregards international law and universal principles of human rights, but look forward to the day when normal cultural relations can be re-established with an "Israel" that fully complies with such laws and principles.
In 2005, when 170 Palestinian civil society organisations called a campaign of Boycott, Divestment and Sanctions (BDS) against "Israel", they provided a central plank for worldwide activism on behalf of their cause. Culture cannot stand aloof from such activism. Whether or not art is 'above politics', its presentation and representation in the real world can all too easily be hijacked by oppressive states. With this pledge, Irish artists have an opportunity to distance themselves from such exploitation, and to take a non-violent stand on behalf of the oppressed Palestinian people.
Full List of Signatories (1,333)
Last Updated: 22- September- 2021
Astrid Adler – Visual Artist, musician, mime artist
John Arden – Playwright, novelist
Siobhán Armstrong – Musician
Derek Ball – Composer
Robert Ballagh – Visual artist
Margo Banks – Painter
Cormac Begley – Musician
Liam Bradley – Musician
Diarmuid Breatnach – Musician, poet
Cecily Brennan – Artist
Ronan Browne – Musician
Conor Byrne – Musician
Roisin Byrne – Visual artist
Séamas Cain – Poet, performance artist
Moya Cannon – Poet
Liam Carson – Scríbhneoir
Clare Cashman – Visual artist
Rhona Clarke – Composer
Siobhán Cleary – Composer
Mickey Coleman – Singer/songwriter
Joe Comerford – Filmmaker
Michael Connerty – Musician (Afterwardness)
Neilí Conroy – Actor
Dorothy Cross – Sculptor
Charles Cullen – Visual artist
Michael Cullen († July 2020) – Painter
Cindy Cummings – Dance artist
Sinéad Cusack – Actor
Margaretta Darcy – Author and playwright
John F. Deane – Writer
Raymond Deane – Composer
Seamus Deane – Author († May 2021)
Renate DeBrun – Painter and printmaker
Damien Dempsey – Singer
Tim Dennehy – Singer/songwriter
Keith Donald – Musician
Philip Donnery – Musician
Gráinne Dowling – Visual artist
Kevin Doyle – Writer
Robert Doyle – Musician
Roger Doyle – Composer
Felim Egan – Visual artist († November 2020)
Martin A. Egan († November 2015) – Musician
Naisrín Elsafty – Singer
Róisín Elsafty – Singer
Zahrah Elsafty – Singer
Elaine Feeney – Poet
Stephen Gardner – Composer
Anthony Glavin – Novelist and short story writer
Dearbhla Glynn – Filmmaker
Johnny Gogan – Filmmaker
Carmel Gunning – Musician
Marie Hanlon – Visual artist
Robbie Harris – Musician
Paul Hayes – Composer
Graham Henderson – Musician
Donogh Hennessy – Musician, composer and performer
Rita Ann Higgins – Poet
Michael Holohan – Composer
Andy Irvine – Musician
Ryan Johnson – Musician
Fergus Johnston – Composer
Fred Johnston – Poet
Trevor Joyce – Poet
Bernadette Kiely – Painter
Brian King – († April 2017) Sculptor
Vincent Kennedy – Composer
Trevor Knight – Music/theatre
Conor Kostick – Novelist
Gavin Kostick – Playwright
Dave Lordan – Poet
Donal Lunny –Musician
Pól MacAdaim – Singer/songwriter
Iarla Mac Aodha Bhuí – Scríbhneoir
Mickey MacConnell – Singer/songwriter
Tony Mac Mahon – Musician
Lorcán Mac Mathúna – Singer
Alice Maher – Visual Artist
Brenda Malloy – Musician
Jimmy McCarthy – Singer/songwriter
Martin McElhinney – Musician (Coldwar)
Paul Nash – Musician (Coldwar)
Trevor McLave – (Coldwar)
Joe McGowan – Author
Jackie McKenna – Sculptor
John McLachlan – Composer
Joleen McLaughlin – Musician (Henry Girls)
Karen McLaughlin – Musician (Henry Girls)
Lorna McLaughlin – Musician (Henry Girls)
Tina Mc Laughlin- Singer/songwriter
Eoin McLochlainn – Visual artist
John McSherry – Musician
Paula Meehan – Poet
Thom Moore († March 2018)- Songwriter, writer/translator
Sharon (Shaz) Morgan – Musician, photographer
Sami Moukkadem – Musician, filmmaker, writer
Hassan Ould Muctar – Musician
Conor Mullan – Musician
Janet Mullarney († April 2020) – Visual artist
Gráinne Mulvey – Composer
Deirdre Murphy – Musician and playwright
Niamh Ní Charra – Musician
Peadar Ó Ceannabháin – Singer
Saileog Ní Cheannabháin – Musician
Treasa Ní Cheannabháin – Singer
Áine Ní Chuaig – Musician
Mairéad Ní Mhaonaigh – Musician/singer
Liam Noonan – Musician (Digital Disorder)
Dave Murphy – Musician (Digital Disorder)
Keith McGovern – Musician (Digital Disorder)
Ken Deasy – Musician (Digital Disorder)
Pádraig Ó Baoill – Scríbhneoir
Niall Ó Callanáin – Musician
Eamonn O'Doherty († August 2011) – Architect, sculptor
Méabh O Hare – Musician/filmmaker
Jane O'Leary – Composer
Brian Ó hUiginn – Musician
Donal O'Kelly – Playwright/actor
Ciarán Ó Maonaigh – Ceoltóir
Seosamh O Neachtain – Dancer
Eoin O'Neill – Musician
Jerry O'Reilly – Singer
Peadar Ó Riada – Ceoltóir
Gregory Rosenstock – Writer
Pauline Scanlon – Singer
Rossa Ó Snodaigh – Ceoltóir (Kíla)
Brian Hogan – Ceoltóir (Kíla)
Colm Ó Snodaigh – Ceoltóir (Kíla)
Paul O'Toole – Singer/songwriter
Michael Quane – Sculptor
Bob Quinn – Visual artist/filmmaker
Jim Ricks – Visual artist
Stephen Rothschild – Painter/printmaker
Mary Russell – Author
Dermot Seymour – Painter
John W. Sexton – Poet
Eileen Sheehan – Poet
Ronan Sheehan – Novelist
Michael Smith († November 2014) – Poet and translator
Moira Tierney – Filmmaker
Hugh Travers – Writer
Caoimhín Vallely – Ceoltóir
Laura Vecchi – Painter/writer
John Wakeman – Poet
Hilary Wakeman – Author
Hazel Walker – Visual artist
William Wall – Author
Ronan Wilmot – Actor/director
Steve Woods – Filmmaker
Adam Wyeth – Poet
Luke Mercer – Musician (Oddsocks Revival)
Adrian White – Writer
Tom Fitzgerald – Visual artist
Clara Rose – Musician
Conor McGrady – Visual artist
Dermot McLaughlin – Musician
Michael Owens – Singer/songwriter
Anthony Fox – Actor, writer
Conor Grimes – Writer, actor
Stuart Nealon – Poet
Darach Ó Scolaí – Writer
Cahal Johnson – Musician
Michael Gallagher – Photographer
Kevin Spratt (aka Captain Moonlight) – Musician
Cara Dillon – Musician
Muireann Nic Amhlaoibh – Ceoltóir
Fiach (Moriarty) – Singer/songwriter
Loreana Rush – Photographer
Alice Hanratty – Painter
Barry McGovern – Actor
Nuala Ní Dhomhnaill – Poet
Lillis Ó Laoire – Musician
Stephen Rea – Actor
Liam Ó Maonlaí – Musician
Ellen Cranitch – Musician
Sharon Shannon – Musician
Seamus Cashman – Poet
Julius Guzy – Painter
Dermot Browne – Painter
Denise Cassidy – Painter
Kevin Crawford – Musician
Gráinne Holland – Musician (Casadh)
Frainc Mac Cionnaith – Musician (Casadh)
Nioclás Mac Cathmhaoil – Musician (Casadh)
Barry Kerr – Artist and musician
John Steele – Musician
Conor Biggs – Musician
Robbi McMillen – Singer
Alan O Connor – Photographer
Sarah Clancy – Poet
Maria McManus – Poet and playwright
Tiona McSherry – Musician
Paul McSherry – Musician
Daragh Carville – Playwright and screenwriter
Harry Moore – Artist
Dylan Walshe – Singer/songwriter
Melissa Nolan – Actor
Anthony Kane (aka The Lonely Schizophrenic) – Musician
John Ryan – Author
Dermot Kelly – Photographer
Ciaran Dwyer – Singer/songwriter
Tommy Halferty – Musician
Finian Cunninghman – Singer/songwriter
Eamon Murray – Musician
Rynagh O'Grady – Actor
Padraig Murray – Actor
Michal Leman-Lemanski – Theatre producer/cultural project manager
Sara Horgan – Visual artist
Pat 'deVerse' Burke – Traditional Singer/Songwriter
Denise Woods – Director of photography
Paul Flynn – Composer
Glenda Cimino – Writer, actor, director
Shane Cullen – Visual artist
Jaki McCarrick – Writer
Tim Ording – Singer/songwriter (Melodica Deathship)
Roisin Ni Galloglaigh – Musician
Kevin McCarthy – Visual artist
Joby Fox – Songwriter
Rik Walton – Photographer
Connor Kelly – Poet/musician
Katrin Neue – Dancer and choreographer
Pamela Brown – Poet
Paul Kirby – Visual artist
Barry Hamilton – Filmmaker and director
Luke Fallon – Cartoonist
Ciaran Murphy – Singer/songwriter
Seán Harrington – Arc