With the symbol of Handala.. Opening of a great mural in Africa to support Palestine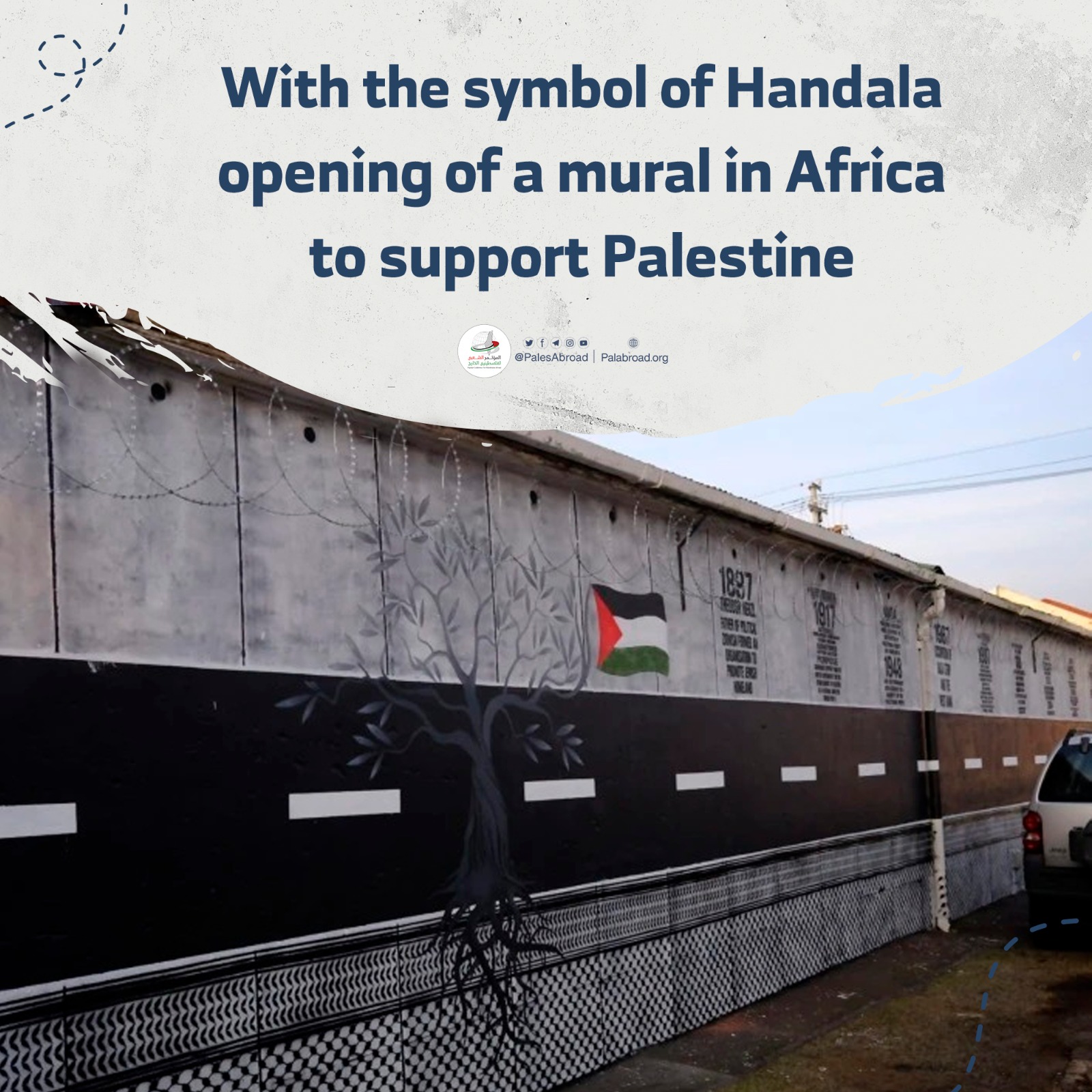 The Heritage Society of Cape Town's Salt River District held a community arts festival that unveiled the largest mural in support of the Palestine in the continent that celebrates the history and politics of this working-class suburb of Cape Town.
The 140-square-meter mural is divided into 3 parts, the first on Al Baba Street, honoring with its drawings 4 South African symbols who fought for the Palestine and the issue of apartheid in their country in and around the region. Benny Kiss, and co-drawn by artists Nazir Hussein and Nazim Jardine. The second and third murals included Naji Al-Ali, Ghassan Kanafani, Handala cartoons, and other symbols of Palestine.
Handala is a global symbol
While a series of murals in honor of the Palestinian cartoonist Naji Al-Ali were drawn on the corners of the main street in the suburb by Tasneem Shilwan and Nazir Jebi, the event official, Nawawi Mathew, confirmed that the Handala cartoon has not only been a Palestinian symbol since the martyrdom of Naji Al-Ali, but rather represents the suffering he is experiencing. The people of South Africa need to stand up to injustice and inequality.
The event, which was held in the Salt River neighborhood of Cape Town, began with a band that toured its suburbs and ended in the event street that surrounded the wall on Fenton Road to Desiree Ellis. Several government and diplomatic figures participated in the opening.
Tasneem Chilwan, one of the main artists at the event, explained that the Salt River neighborhood mural, called Mural for Everyone, was an idea more than 20 years ago and today is an important symbol of cultural solidarity.
Tasnim stressed that the long-term history of the joint struggle against apartheid between South Africa and Palestine was not only political, but carried with it the cultures of the two peoples fighting for freedom, noting that the use of walls in the neighborhood as positive symbols of the struggle is evidence alone of the solidarity of South Africans when it comes to freedom of the Palestinian people.
According to historians, street art dates back to the first century BC, when the Romans wrote letters to each other on their walls. Street art is not new, but the medium is evolving, the nature of the activity is changing, and with it the future of freedom of expression and the idea of ​​​​fighting for a certain idea such as murals.