Aya Youssef, Palestinian refugee nominated as the most influential student in the world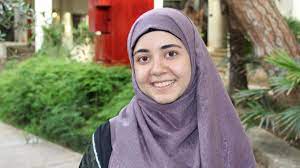 A Palestinian student born and raised in a refugee camp in Lebanon has been selected as one of the top 50 finalists for the 2021 Chegg Global Student Prize. More than 3,500 candidates from 94 countries around the world were nominated for having a real impact on learning, the lives of their peers and society around them.
Aya Yousef is an architecture student at the American University of Beirut. She was born in Burj Al-Barajneh Refugee Camp, and attended schools run by UNRWA. She now works on UN programmes to mentor young people around the world.
In 2016-2017, she started the first coding club at her school, and shared her knowledge and experience of coding with around 20 students. At the end of that academic year, she was nominated for the Global Children's Peace Prize and was chosen as one of the top three students from Lebanon.
Ever since, she has been aware of the problem of access to scholarships and universities in Lebanon. She said that her self-learning abilities were strengthened through her own research into such opportunities, going on to share that knowledge with her classmates was the beginning.
According to Aya, her nomination is something that the whole community can be proud of, and it is the tough environment in which she was raised which ignited her passion for having a positive impact on everyone around her.
The Chegg Global Student Prize is open to all students who are at least 16 years old and enrolled in an academic institution or training and skills programme. The winning student will be announced in November and will receive a prize of $100,000.
"If I win, I will invest half of the money in skills training in my refugee camp, and then I will expand this to other camps. Some of it will be used to improve outdoor play spaces, as well as investing in equipment for free software tutorials for high school and university students." Aya said.
The core of all of these projects is Aya´s long-held belief that "innovation comes only from readily and seamlessly sharing information rather than hoarding it."
Aya has partnered with two other change makers who share her vision and mission. Together they have founded ToRead Online Education Platform to support the Palestinian refugee community. In looking for hope and positivity despite the many obstacles faced by refugees in Lebanon (and elsewhere), she tries to turn them into opportunities to promote an environment for change. She is using her already considerable experience in design, architecture, social media and digital and graphic design to overcome the economic and financial crises in Lebanon, and their effects on the Palestinian refugee camps.
Both of Aya's parents are in poor health. Growing up in a Palestinian refugee camp in Beirut, therefore, this means that there has always been a lot of financial pressure on the family. Lebanon's economic problems make matters worse. She has persevered though, despite the hardship, and her focus remains on helping her community and those beyond the camp.
Aya Yousef is passionate about her studies and her work in the local community. This passion is infectious, which is why, perhaps, she hopes to win the prize next month. If she does, it will be on behalf of all of the Palestinian refugees in Lebanon, and she will go on to have a positive impact on other students around the world.