Palestinian pregnant detainee Anhar Al-Deek embraces freedom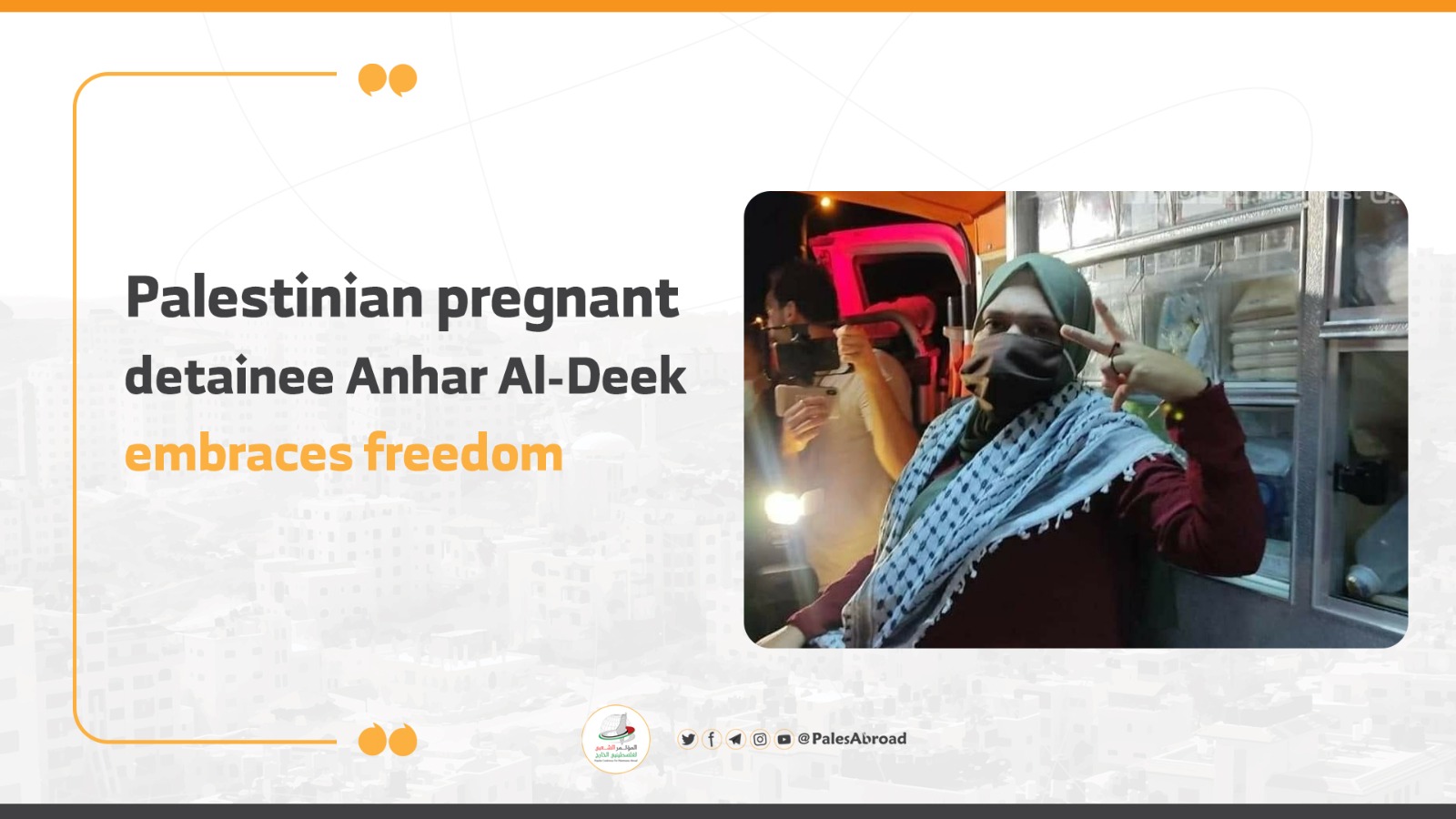 Under pressure campaigns organized by a group of activists around the world "Israel" 's Ofer Military Court agreed to release nine-month pregnant Anjhar Al-Deek, issuing 40,000 shekel ($12,500) bail and releasing her on house arrest, the Prisoners and Ex-,Prisoners' Affairs Authority said.
Twenty-five-year-old Al-Deek is from the Kafr Ni'ma town west of Ramallah and has been imprisoned for five months on charges of attempting to carry out a stabbing attack near an illegal settlement outpost, however no verdict has yet been issued against her yet.
As her due date nears, an online campaign calling for her release has picked up pace, with a letter she sent her family adding to pleas for her release.
"What should I do if I give birth far from you? I am tied up, how can I give birth via caesarean section when I am alone in prison?" Anhar wrote in her letter to her family, adding: "I am exhausted, and I had severe pains in the pelvis and severe pain in my legs due to sleeping on the prison beds. I do not know how I want to sleep on it after my delivery operation."
Moreoever, Anhar has been diagnosed with depression in detention and requires specialised treatment.
The prisoner "Al-Deek" arrived at the "Salem" military checkpoint north of Jenin (north), after she was released from Damon prison in northern "Israel". The moment she reached the checkpoint, the released detainee expressed her thanks to everyone who responded to her call, and demanded them and all the free people of the world to respond to the call of all prisoners for their immediate and urgent release.
And about the moment the news reached the female prisoners, she stated that the joy was indescribable, not only for her, but for all the female prisoners, and Al-Takbeer was loud everywhere.
Al-Deek said: "All the words and letters of the Arabic language are unable to describe my feelings and describe my gratitude to everyone sympathized with me."
And about the moments she would think of if she had given birth in prison, she said: "It was very difficult and indescribable moments. Every moment I imagined how my son would come to the cell? How would he live the suffering that I live in? How would he face the darkness of the cells? How would he be far from his father?".
Palestinian Red Crescent crews were waiting for the released detainee, and she was transferred to Jenin Governmental Hospital for medical examinations before being transferred to her village.
There are around 4,850 Palestinian detainees in "Israeli" prisons, including 41 women, 225 children, and 540 administrative detainees – held without charge or trial, according to institutions concerned with prisoners' affairs.